In the Beginning: The Future Is Now
My name is Jeff Weiss. I am the owner and formulating chemist here at Target Coatings. Many of my long time clients know the story about Target Coatings, but most of you do not know the history, the big picture as it were, of how my company, and its various brands, came to be. I hope the following information will help to fill in the blanks about what and whom Target Coatings is all about.
About Target Coatings: Water-Based Since 1988
Over the course of these many years I have come to know, in a very deep and personal way, what the phrase, "the future is now" means. In 1988 I sat at my grandfather's lab bench and pondered how I could make a difference in both my early business career and in the lives of my customers. Growing up in a family of manufacturing chemists and small business owners I knew that making things was inherent—it just felt right. But how to be different and, at the same time, of value, was the missing element. With this question placed before me I began to research wood coatings and landed upon what was to become my life long pursuit. I knew I had to do this in not just a unique way, but in a way that few paint formulators had thought of and with materials that even fewer knew how to work with. My family taught me that the history of solvent-based manufacturing and its uses were littered with environmental and workplace hazards. This unpleasant information opened up a world of opportunity for me as my passions leaned towards environmental stewardship and workplace safety. First, whether it was in 1988 or today, I would not and will not expose others to a substance that I myself refuse to be exposed to, be it in the lab or in the workplace.
Second, waterborne technology was still in its virgin state and the opportunity to get into the water based finish arena looked ripe. So for my own sake and for the sake of my co-workers, and ultimately, my customers, I was driven to find a safer alternative to the dangerous solvents and resins that we all had been working with since the early 1940's. This was the goal that made me move forward. The development of low VOC waterborne coatings struck a chord within me that resonates strong to this day. I knew right away that waterborne technology "was the future."
1988: Step One-Pop the Cap
In the late 1980's there where very few water based clear coat formulas on the market other than the still unproven wood floor coatings that were just beginning to see service. Oddly enough there was a decent array of waterborne urethane resins and acrylic polymers in the raw material streams to choose from, mainly designed for the textile trades, but virtually no wood coating history was behind them and even fewer additives were available to make them look attractive. So I asked myself, "how can I make these systems work? How can I make them work well?"
It didn¹t take long for me to start spending my weekends in the lab and many hours out in the field developing and testing very unusual water based finish formulas. With the help (and dismay) of a few well regarded raw material suppliers I began to do what any good formulating chemist does, which is find several lines of water based urethane and acrylic resins and then determine the compatible versus the incompatible—see how they function alone and together in various percentages, and then observe what looks good and what looks, well, terrible.
In many cases I ran through seven or eight versions of a hypothetical formula before I even approached the level of performance that gave me the confidence to take it to the next level of testing. There were a lot of frustrating days and nights spent at my desk back in the early 1990's, but I was young, and my family and a growing list of customers egged me on to continue my R&D work. Water-based chemistry, after all, "was the future".
Many of my raw material suppliers asked me how I made their resins look so good. Knowing that they where trolling for information my standard reply was, "Step One—pop the cap on the sample bottles
1990: Enter TK200­ – The First Marine Grade WB Wood Finish?
Within a few months the starting point water-based finishes were beginning to look good enough to take to market—but which market? Wood flooring was still the domain of the solvent-based systems, and another vanguard company in the water-based coatings arena was having disastrous results in the furniture and cabinet trades. So I went where no other products such as these had been used before—the boat building industry. Enter TK200 Water-Based Teak Restorer/Protectant, in 1990. As the old saying goes, ³"the journey of a thousand miles begins with the first step". How true. TK200 Teak Restorer/Protectant was the first of a long line of water based wood finishes produced in my lab. The concept behind TK200 was for it to act as a substitute for natural teak oil, which is highly combustible.
Unfortunately TK200 did not do well in its primary mission as a long-term exterior grade coating. However, it did prove that waterborne technologies could look good, show clarity and perform well (in most cases) when used as an interior protective finish. With a mix of both spectacular successes and equally spectacular failures, TK200 gave me the base to move forward and develop the WB2000 Series Water-Based Wood Finish System. Both my client list and my formulating confidence grew in the early 1990's.
1993: The WB2000 & Oxford Years
With a growing list of custom and production boat builders now using the WB2000 Series Wood Water-based Finishes, feedback on the pros and cons of these formulas were making its way to me. From 1990 through 1998, I spent hundreds of hours with the best and the biggest production builders in the United States and Canada developing and fine-tuning these early acrylic/urethane formulas. The features and benefits of the WB2000 Series allowed these shops to improve the productivity of their wood finishing departments and to reduce the VOC levels from their emissions calculations. WB2000 water-based finishes offered good durability, clarity, very low odor, and the removal of flammable compounds from a critical boatbuilding workspace—the varnishing room.
Developing water-based wood coatings for the marine industry helped Target Coatings define and refine the performance of these formulas based on real time application and evaluation. These customers set the quality bar very high, and with each setting I jumped as high as I could to satisfy their requirements. Quite often there where no raw materials available to make the transition to meet 100% of their requirements, so I had to be creative in selecting the best resins and additives to make the formulas perform the best way possible. In certain cases we used fine pigments to mimic the color effect of aged oil-based varnish. In other cases we provided a purer level of clarity that helped replicate the gloss level of automotive finishes.
Innovation was key, as it was all we had to fall back on. If there is one single example of why the waterborne finishes Target Coatings was developing looked so good it was due to the boat building trades insisting on incredibly hard to reach standards in quality. Their mantra was, "It has to look like oil based varnish or it won't sell". And so began the Oxford Series Waterborne Wood Finishes.
1997: Hybrid? What's a Hybrid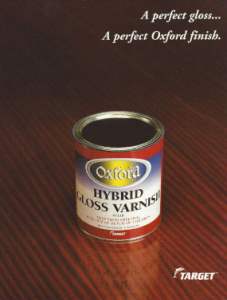 As time moved Target Coatings closer to the next millennium, a new international groundswell was taking place—the 2nd Environmental Movement. State and federal clean-air laws began to tighten around the automotive and marine industries, focusing on volatile organic compounds, commonly known as VOC's. The next frontier for clean air reform in the United States and Canada was the architectural coatings industry. With this knowledge and with the hindsight of ten years of formulating history to outpace my competitors, Target Coatings made the timely jump into the furniture and cabinetmaking trades. In 1997 we introduced the Oxford® Series of Waterborne Hybrid Varnishes. The development of the hybridization of oils such as linseed, tung and castor began to work their way into the urethane resin supply chain. These hybrids offered excellent durability, a more traditional color image and—most importantly—very low solvent fumes. Oxford® Hybrid Spar Varnish and Oxford® HybriVar Interior Hybrid Varnish set the stage for the greater acceptance of waterborne technologies in the woodworking trades. While fine-tuning the performance of these new hybrid resins we introduced another industry landmark; Oxford® Premium Spray Lacquer (PSL v1.0), the first water-based system to offer true 100% burn-in technology that mimicked nitrocellulose lacquer. PSL was well received and prompted the future development of six refinements of the original formulation over the course of the next twelve years. The refinements produced Oxford® Ultima Spray Lacquer and now the well established water-based lacquer: EMTECH EM6000 Production Lacquer. Another well-received gamble of ours was actually an old family lab trick, i.e. the blending of dewaxed shellac into a water suspension to create a non-flammable clear shellac sealer. Oxford UltraSeal WB Shellac was born. It was an audacious move, and it worked! Target Coatings now offered a complete suite of top-grade waterborne finishes for the wood working professional and DIY enthusiast. From 1997 through 2007 Target Coatings grew exponentially.
2000: Innovation Driven by Vision
By Y2K Target Coatings had established a reputation for out-of-the-box thinking in both the products it designed and the way we sold them. Our first interactive website was built in 1998, with a more refined version launched in early 2000. Our v1.0 eCommerce platform, Finishingzone.com, was launched in 2001, with refinements made again in 2008 and again in 2013. As the chief product designer I continued to fine-tune the growing array of formulas and applications upon which they were used. Not being satisfied with having a "do all" water-based varnish or lacquer in the product matrix, I proceeded to develop the EMTECH brand to ensure that our customers had the best number of options to choose from in terms of final look, performance and method of application in a water-based format. The EMTECH lab efforts created innovative formulas such as EM2000wvx and EM8000cv (the 3rd and 4th generations of the Oxford® Hybrid Series), WR4000 Hybrid Stains and the highly successful EM9300 Polycarbonate Urethane—the first exterior waterborne clear coat to be approved by the Master Painters Institute (MPI). Simply put, I was not satisfied with allowing my now awakening competitors to close the gap my small team and I had built over the past 20 years. The EMTECH brand would be the
2014: Looking Back into the Future
From the outside Target Coatings is not the same company I started back in the 1990's. Partners and employees have moved on and world financial events have re-sculpted the business landscape we all gaze upon today. However, Target Coatings, and yours truly, are now both wiser, leaner and in many ways better then what we were during the early growth years. Yes, the competition has gained significant headway in product development and marketing, making water-based wood coatings, a once bizarre alternative, into a now more common commodity. In many ways Target Coatings is still the boutique manufacturer it started out to be back in 1988. However, with our strong industry alliances, a flexible manufacturing footprint and a new focus on product development and future growth, I am pleased to report that Target Coatings is alive and well. And I'm committed to providing the highest quality, professional grade, waterborne finish technology to meet every project need—whether it's fine furniture application, architectural and general woodworking, custom guitar-making, or DIY woodcrafting. You can be assured that the EMTECH brand is always LEED Credit Compliant, always ultra-low VOC. By looking back at our past I can continue to navigate Target Coatings and the EMTECH brand well into the future; because water-based technology is the future.